2018 St. Patrick's Day in Portland
Want to do something special for St. Patrick's Day but new to the area and not sure where to start? Here are our top suggestions based on what you might be looking for.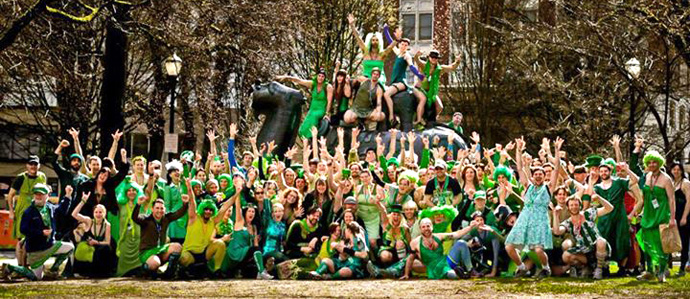 Culture:
In the mood for some traditional Irish music, stories, and limericks? Check out Luck of the Irish, put on by non-profit Portland Story Theater. A 21+ event, Luck of the Irish is a great way to immerse yourself into a little Irish culture before St. Patrick's Day.
https://app.arts-people.com/index.php?show=76823
Get Active:
As a way to kick off the outdoor running season, Adidas hosts one of the biggest running events in the region: The Shamrock Run. Taking place on March 18, The Shamrock Run includes several different distances plus ones for kids. But make sure to hit up the Shamrock Fitness Fair the Friday and Saturday prior for "more than 60 exhibitors & 80 booths featuring fitness products, sampling, games and contests."
https://www.motivrunning.com/shamrock-run-portland/event/expo/
Fun with the kids:
If you are in Sellwood/Moreland area, St. Agatha's annual parade and festival is a perfect way to spend a family friendly St. Patrick's day. Enjoy the carnival, live music, food carts, and beer garden with the local community during this annual event.
https://www.stagathaschoolpdx.us/st-patricks-day
Irish food:
For authentic Irish food, check out T.C. O'Leary's for brunch or dinner any time during the week. Moving from Ireland, the owner brought with him the recipes and atmosphere he missed from pubs back home. Make sure to check their event calendar for live music events.
Whiskey:
If the rowdy St. Patrick's Day crowd isn't your thing but you enjoy a nice whiskey, try out Portland's popular Multnomah Whiskey Library. If you are feeling especially festive, servers are more than happy to answer any questions you have on their Irish whiskies as they all have extensive knowledge on the hundreds and hundreds of whiskies in their library
The full St. Patrick's Day Experience:
You can't go wrong at either of Portland's competing Irish pub festivals. Paddy's St. Patrick's Day festival includes their tented street party, live Irish music and dancing, food, and of course, Guinness. Kell's St. Patrick's Irish Festival includes a boxing event as well as food, drinks, and music. Going for two plus days, both festivals are family friendly during certain times only and bound to be packed. Perfect for those looking for a social gathering.
https://www.pdxpipeline.com/event/2018-portland-st-patricks-day-festival-paddys-bar-grill-tented-festival-live-irish-music-bagpipers-irish-dancers-traditional-irish-food/2018-03-18/