7 Things You Didn't Know About Floating Homes & Houseboats
From battening down the hatches for a storm to hiring a diver for your home inspection, you're likely in for a few surprises.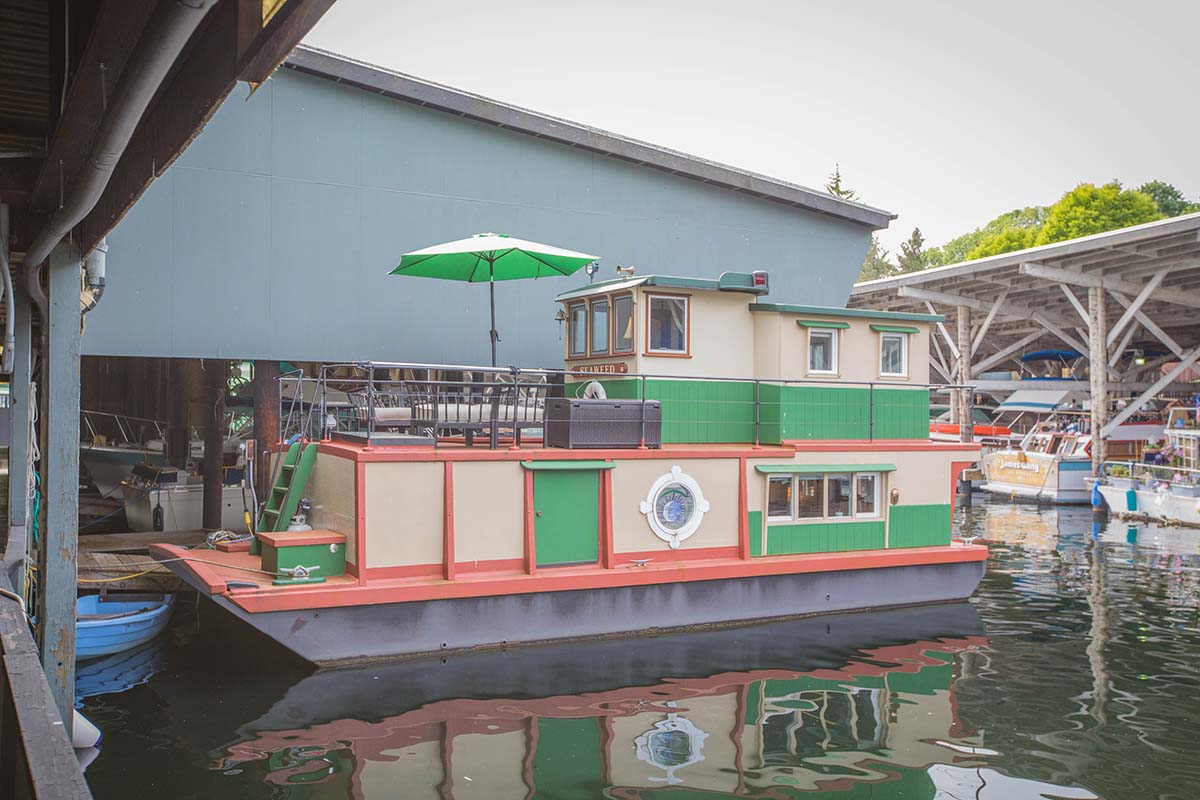 While a huge part of "Sleepless in Seattle's" appeal could be chalked up to the '90s rom-com duo of Tom Hanks and Meg Ryan, another significant part of the movie's charm is its setting in a floating home.
The key distinction here is that it's a floating home, not houseboat. Although Hollywood and much of the U.S. refer to the movie's home as a houseboat, Hanks' on-screen residence is technically a floating home. And, yes, there is a difference.
Here are 7 things you may not know about floating homes and houseboats — and likely didn't learn from "Sleepless in Seattle."
A floating home is not a houseboat
Although both floating homes and houseboats are found on the water, there are significant differences between the two.
Think of a floating home like a condo, but rather than a unit in a building, it's a unit on the water with HOA dues paid to maintain the dock and slip. Floating homes are permanently connected to sewer, water and electrical, built and moved into place just once.
Houseboats on the other hand have "quick disconnect" features, says houseboat expert and real estate agent Kevin Bagley of Special Agents Realty.
"You can unscrew the electricity, the water hose, untie and easily move away. They're designed to not be permanently moored," he explained.
Nicknamed Seaweed, this Seattle houseboat is only 415 square feet but full of personality.
You really have to batten down the hatches
When a storm is passing through or rough water is expected, houseboat and floating home owners tie down their patio furniture, and put their cushions and sun umbrellas away. It's no different than being on a ship.
When you live directly on the water, the views are spectacular. But when a storm is brewing, you have to batten down the hatches!
Different taxes are required for houseboats
Floating homes are sold like any other house, with traditional loans and closing costs. Houseboats have a sales tax due at the point of sale. And in the city of Seattle, there's just one lender who handles houseboat loans.
This floating home, known as Otter Magic, measures 600 square feet with ample living space, a solarium and more.
Home inspections require a diver
As with any home purchase, an inspection is generally recommended with an expert checking out the home from top to bottom. This involves hiring a diver to inspect the hull of a houseboat or the floats beneath a floating home.
Floating homes must meet standard building codes; houseboats have a little more leeway with unusual staircases or door and window sizing.
There's no cookie-cutter constructions. Nautical touches and whimsy are what floating homes and houseboats are all about.
You probably won't get seasick
Getting seasick is really not likely, says liveaboard expert Linda Bagley of Special Agents Realty.
"The percentage of people who get seasick are so minor. Really one out of 10 should not live on a houseboat," she explains. However, when she's showing a potential owner to a floating home or houseboat, she encourages them to check it in all weather – just in case.
Houseboats make the most of a small space with built-ins, hanging storage and cozy nooks.
Floating homes really do float
A floating home may have 30 barrels and 100 floats to keep the floating home level. The floats are generally made of concrete with Styrofoam inside.
Maintaining equal weight across a floating home is key. Whether it's heavy furniture, or people at a party, an uneven distribution could cause a barrel or float to escape from underneath the home.
With houseboats and floating homes, your neighbors are local sea creatures such as seals and beavers.
Life on the water is wild
Whether urban or remote, living on a houseboat or floating home means you're literally on the water.
"Most people think that city lakes are barren of fish and fowl but it's the opposite," says Kevin, noting that his neighbors include otters, beavers, eagles, heron and plenty of fish.